[You're a Star - A Courtney Whitmore | Stargirl Fanmix]
Fandom:
DC Comics (Justice Society of America)
Subject:
Courtney Whitmore (Stargirl)
Title:
You're A Star
Notes:
This was originally put together for a challenge at
landofart
(Team PA). The challenge was to put together a playlist, and write out some of why you thought a character would be attached to that song - I ditched the writing here because I've got mixed feelings on 1st POV writing, but the original is
here
if you're morbidly interested. Started out mostly as a late 90s-early 00s pop/rock mix, since that's the sort of music I associate with Courtney, but there's a lot of chick rock and some electronica too. Featuring songs from Letters to Cleo, The Donnas, Veruca Salt, Blur and Moby, among others.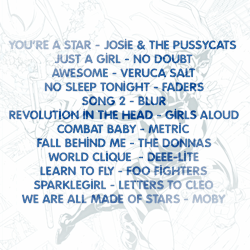 (
because baby you're a star!
Collapse
)